Pumpkinhead has had a (relatively) long and vague history with masks, some of which are questionable in regards to their legal licensing with MGM.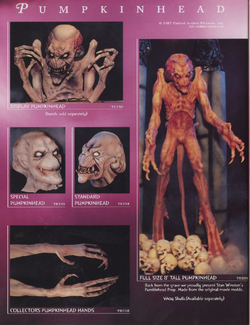 Distortions Unlimited/Morris Costumes
A scanned image of a 1996 "Halloween Outlet" catalog shows an entire page of Pumpkinhead products. They include a bust-like mask labeled as "Display Pumpkinhead", two Pumpkinhead masks with different facial expressions, the smiling Pumpkinhead being labeled as "Special Pumpkinhead" and the mask with a growling-like expression being labeled as "Standard Pumpkinhead", a set of Pumpkinhead hands labeled as "Collector's Pumpkinhead Hands", and finally a full eight-foot tall Pumpkinhead prop cast from the original molds of the costume used in the first film.
Other than this scanned catalog image, there is very little documentation of the existence of these items other than eBay listings and several forum posts. It is unknown whether or not these items were released before 1996 or exactly who manufactured them. Some claim that Distortions did a Pumpkinhead mask before 1996, and the "Display Pumpkinhead" resembles the alleged Distortions Pumpkinhead.
In 2012, Don Post Studios was going to release a mask of the Pumpkinhead monster, which would also include a set of Pumpkinhead hands. The project was canceled due to either Don Post being bought-out by Gemmy Industries in the same year the mask was going to be released, or a lack of orders for the set from Halloween retailers due to the expensive retail price. Because of this, only a small number of factory production samples of the mask were made. While there is no conclusive evidence of exactly how many samples were made, at least 13 have been documented on social networking and forum posts.
Halloween-Mask.com/Jon Fuller
In 2014, two versions of a Pumpkinhead mask supposedly sculpted by Jon Fuller were released as exclusives to a website called Halloween-Mask.com. The normal version consists of only the head of the monster and the "deluxe" version also includes the monster's shoulders, as well as those bulbous-shaped objects growing from the shoulders. These masks, unfortunately, are somewhat lacking in movie accuracy and it is questionable whether or not they were officially licensed by MGM.
It was (more or less) confirmed in a Facebook post that Trick or Treat Studios is planning on making a Pumpkinhead mask in 2016. Whether this mask will be identical to the unreleased Don Post mask or not is currently unknown.
Gallery