Pumpkinhead has had a long history with statues, model kits, maquettes, etc. Here is a list of most known Pumpkinhead statues.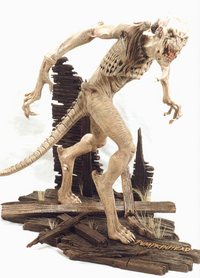 Note: these statues are not listed in chronological order of their release because information regarding most of these statues is not available.
Geometric Designs has released several model kits of Pumpkinhead. They released the first ever officially licensed Pumpkinhead model kit in 1991, which was a full body statue of the creature with church ruins in the background and the movie logo sculpted into the base. Geometric discontinued this model kit in 1994 when they released a model of the winged Pumpkinhead that would have appeared in the third issue of Pumpkinhead: The Rites of Exorcism. This model kit also included a copy of the cancelled third issue.
At some point, Geometric also released a bust of the creature with the movie title and Ed Harley's necklace.
In 2006, Sideshow Collectibles released a 1/4 scale maquette of Pumpkinhead. These were supposedly limited to 150 copies, and under the stand of each copy the number is marked. The maquette also features a stand with several rotten pumpkins as seen in the film and the movie title. Sota Toys also released their "Mega Scale" Pumpkinhead action figure in 2006 as well, which is oddly coincidental.
There have been many complaints about this maquette regarding the paint work and sculpt. The most notable of these flaws is that the head is somewhat out of scale with the body. Because of this, many a collector have repainted these.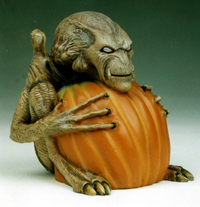 There are many Pumpkinhead statues and model kits made by both currently unknown manufacturers and also customs made by fans of the film. Many of these custom made Pumpkinhead models are sold on various monster-related websites. One of the most notable is a small statue of Pumpkinhead hugging an actual pumpkin.